Are you feeling anxious to get yourself involved in a culturally enriching experience? Well, do we have news for you!
You might not be aware, but for the past several years in Estonia, there has been a regular event for artists of all different disciplines to cut their teeth in front of a live audience. We are of course talking about the Tallinn Fringe Festival, a month-long event showcasing the very best talent from within Estonia and abroad.
In this article, we're going to look into what fringe is, the history of the Tallinn Fringe Festival, and what you can do to support and continue its growth and popularity.
PRO TIP: Do you already know about the Tallinn Fringe Festival and want to know all about attending? Be sure to check out our article The Ultimate Tallinn Fringe Festival Guide 2022 to learn how to prepare yourself.
What is a Fringe Festival?
A fringe festival is a type of arts festival that takes place on the outskirts of mainstream culture, often featuring experimental, alternative, or underground performances and artwork. They can be quite diverse in terms of the types of art they showcase, with everything from theater and dance to music and visual art being featured.
The worlds largest arts festival is the Edinburgh Fringe Festival that takes place every year for the whole month of August in Edinburgh, Scotland
250+ fringe festivals take place worldwide each year, with one happening right here in Estonia – the Tallinn Fringe Festival. This eclectic event showcases some of the most cutting-edge and innovative performances around. If you're looking for an experience that's far outside the mainstream, a fringe festival is definitely worth checking out!
The History of the Tallinn Fringe Festival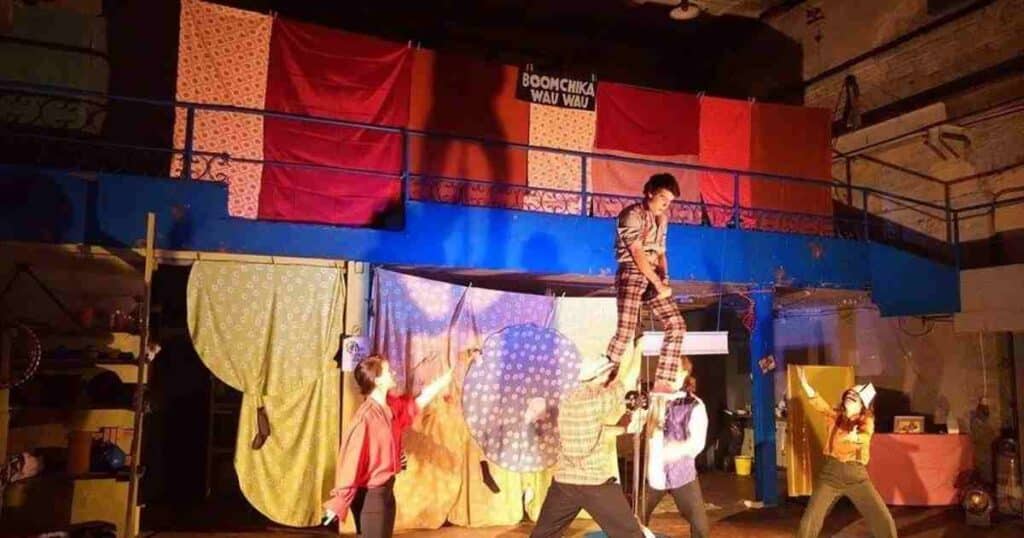 The Tallinn Fringe Festival is a lot older than you might think, with its roots going back as far as December 2016.
Initially, The Tallinn Fringe Festival was a collection of circus performers, actors, dancers, musicians, and fire performers coordinating their own and co-creating shows to host an event that spanned five days. Held in the Creative City of Telliskivi in Tallinn, Estonia. This early version of the Tallinn Fringe Festival was called "Boom Chika Wau Wau"
Boom Chika Wau Wau
A name, very much of its time, represented the early stages of the Tallinn Fringe Festival, which was a side festival for the Winter Night Dream at the time.
Artists included:
And you could also watch cabaret every night during the "Late Night Wau" portion of the event.
The Tallinn Fringe Festival Now
Leap forward in time to 2022, Boom Chika Wau Wau has evolved into the Tallinn Fringe Festival and features a multitude of international and local artists performing at multiple venues and offering even more than it did during its adolescent years.
Tallinn Fringe Festival is a member of the Nordic Fringe and World Fringe Networks, providing connections to more than 250 other Fringe Festivals from around the globe and hosting over 170,000 shows each year! Since its humble beginnings, the Tallinn Fringe Festival has been proud to:
Open accessibility to any performer from any background
Provide a platform for emerging talent and empower them to find their audience
Support audiences in seeing shows perhaps outside of their own bubbles and appreciate the diversity of culture in Estonia and beyond
The Tallinn Fringe Festival runs from 18th August to 18th September.
Every August, performers based in Estonia and abroad descend on Tallinn to share their work with the world. There are theatre shows, comedy acts, dance performances, and more. If you're looking for a wild and unforgettable experience, then make sure to visit the Tallinn Fringe Festival.
Tickets can vary from show to show, but there are plenty of free events as well. And don't forget to enjoy the city itself – Tallinn is one of the most beautiful cities in the world. Whether you're looking for a fun and festive vacation or simply want to experience some of the world's best art, the Tallinn Fringe Festival is the place to be.
How Can You Support the Tallinn Fringe Festival?
Fringe festivals are crucial for not only promoting culture and artists from across the globe. But, with enough success and time, Fringe Festivals can bring a massive boost to tourism. If you're a supporter of the arts or a local business owner, supporting the Tallinn Fringe Festival now means you and others can continue to benefit from it later.
In order to support this incredible event, here are a few things you can do:
1. Be There or Be Square
Attend as many shows as possible. The more people who attend, the more successful the festival will be.
2. Word of Mouth
Spread the word about the festival to your friends and family. Let them know why it's such a special event and encourage them to attend too.
3. Get Your Hands Dirty
Volunteer at the festival. There are many opportunities to get involved, and it's a great way to support the festival and meet new people.
4. Host a Show
The Tallinn Fringe Festival is always on the lookout for new venues to offer spaces to emerging and established artists.
Allowing local and foreign entertainers to use your space can be a great way to create a lively atmosphere and draw in customers. Here are just a few of the benefits and drawbacks of being a part of the Tallinn Fringe Festival:
Increased foot traffic
Increased revenue
More engaging environment
The Tallinn Fringe Festival is an event that you won't want to miss. Be sure to check out the Tallinn Fringe Festival website or Facebook page to keep up with events. You can also buy tickets for all Heldeke! shows here.