When it comes to whisky, there are seemingly endless ways to enjoy it. The possibilities are endless, from cocktails and mixed drinks to neat pours and ice balls. However, if you're looking to get the most out of your whisky – and appreciate its unique flavor profile – then it's best to start with a simple tasting.
In this 5-step guide, we'll show you how to sample whisky like a pro in Tallinn!
1. Choose the right glass
When tasting whisky, it's important to use the right glass. A tumbler or rocks glass is ideal for neat pours, while a snifter is perfect for enjoying drams with a bit of water or ice.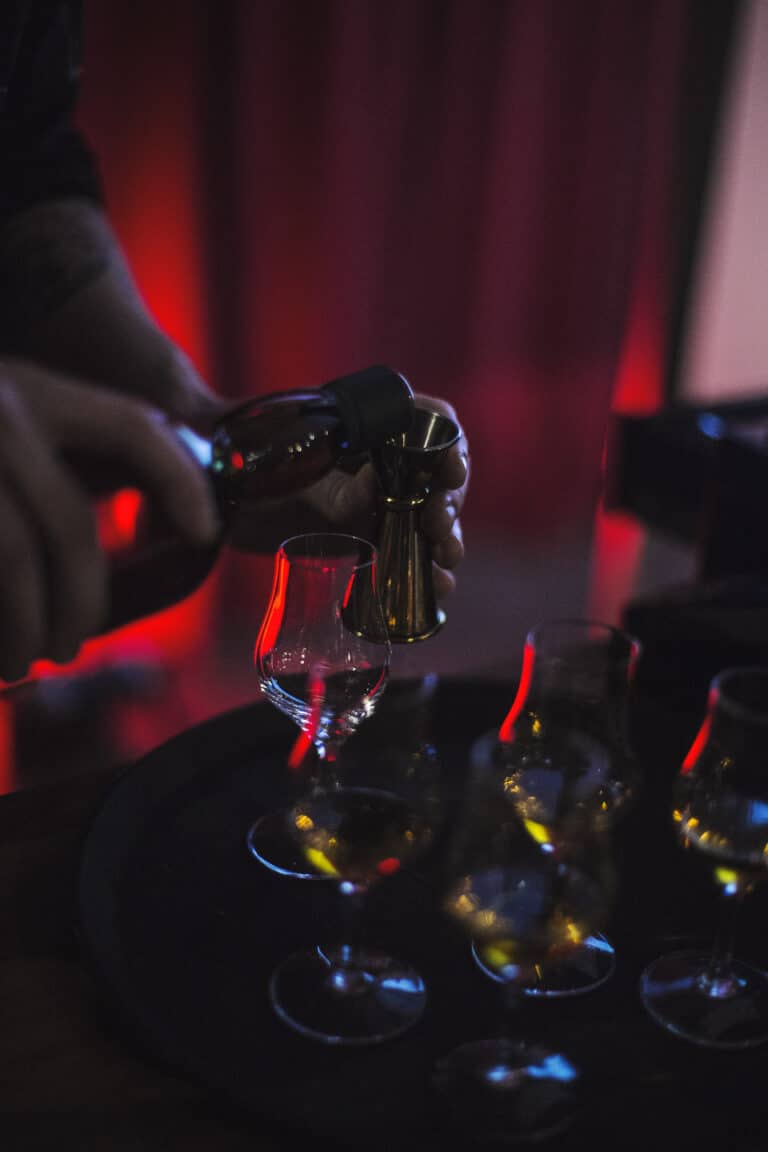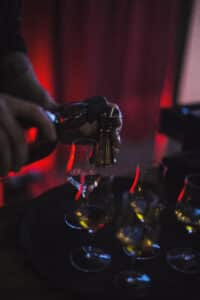 2. Swirl and sniff
Swirl the whisky around in your glass to release its aroma to get started. Then, take a deep breath and smell the whisky. What do you smell? Is it:
Fruity?
Sweet?
Smokey?
Spicy?
Take your time and savour each scent.
3. Take a sip
Now it's time to take a sip. Place your lips on the edge of the glass and slowly sip the whisky, allowing it to roll over your tongue. What do you taste? Again, take your time and savor each flavour. Is the whisky buttery smooth, or is it smoky and spicy?
4. Sip and savour
Once you've tasted the whisky, please take a moment to reflect on its flavor. Is it what you expected? What stands out to you? What do you like and dislike about it? How does it compare to other whiskies you've tasted?
Your tongue has different taste receptors, so be sure to allow the whisky to flow over your tongue to experience if the whisky is:
Woody
Fruity
Peaty
Floral
Sulphury
Feinty
Winey
Confused? You can use a whisky favor and color wheel to help you get started with understanding what it is you're actually tasting.
5. Finish your dram
When you're done tasting the whisky, take a final sip and enjoy the finish. What does the whisky leave behind on your palate? Is it sweet or smoky? Fruity or spicy? Take your time and enjoy each flavour before swallowing.
And there you have it! Now you know how to taste whiskey, why not head to one of Tallinn's many whiskey bars and try some of Estonia's finest whiskies? We recommend starting with the local favourites – anything from Moe or their rare Tamm ja Rukis for example – and working your way up to some of the more complex whiskies from Scotland, Japan, and India.
Where to go whisky tasting in Tallinn?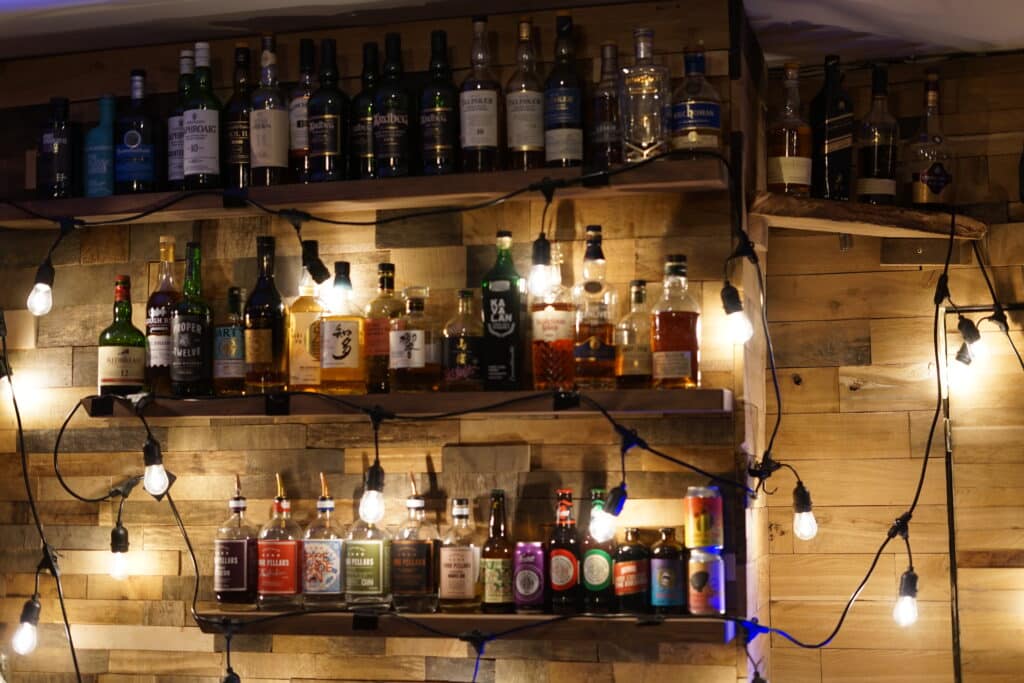 Heldeke! is a creative hub based in the leafy district of hipster central Kalamaja, is home to events ranging from:
Burlesque
Comedy
Swing dancing
Live music
Magic
And more
However, something they have recently launched is a whole line of local and international whisky for tasting sessions or simply for casual enjoyment. Currently, Heldeke! boasts an impressive selection of 79 whiskies for everyone to enjoy.
To wet the whistle of a whisky connoisseur or simply to give newbies a head start, here are 6 recognizable whisky's Heldeke! stocks to get you going:
Glenmorangie Signet
Glenmorangie Signet is a unique Scotch whisky that has a flavour.
Some say it tastes like crème brûlée, while others detect hints of toffee or caramel. No matter what the flavour, there's no doubt that Signet is delicious! If you're looking for an interesting and unique whisky to try, be sure to give Glenmorangie Signet a shot. You won't regret it!
Oban 14y
The flavour of Oban 14y whisky is a combination of vanilla, honey, and malt.
It's a smooth and mellow whisky that has a long finish. Oban 12y is a great whisky for beginners, as it's not too smoky or peaty. It's also a good choice for those who enjoy a sweeter whisky.
Bowmore 15y
The Bowmore 15y whiskey is a peaty single malt with a smoky flavour with hints of seaweed and salt.
It has been aged in bourbon casks for 15 years, which gives it its characteristic flavour. The whisky has a sweet, malty taste and a long, smoky finish. It is a well-balanced whisky that can be enjoyed on its own or in cocktails.
Glenfiddich 12y
The Glenfiddich 12y whisky is a smooth and flavorful drink with a slightly sweet taste.
It's perfect for those who enjoy a mellow Scotch whisky with a bit of complexity. The flavour profile of the Glenfiddich 12y includes notes of honey, vanilla, and caramel, making it a delicious choice for any occasion.
Whether you're looking to relax after a long day or celebrate a special occasion, this whisky is sure to please.
Balvenie 12y Double Wood
Balvenie 12y Double Wood is a smooth and mellow whisky with a sweet, vanilla flavour.
It's matured in two types of wood – first in oak casks, then in Sherry casks – which gives it its unique flavour profile. If you're looking for a delicious whisky with a slightly sweet taste, Balvenie 12y Double Wood is definitely worth trying!
Singleton 12y
Singleton 12y whisky is a malt whisky that has a sweet, fruity flavour.
It's made with malted barley and water from the River Spey, and it has a smoky flavour that comes from the malt. Singleton 12y whisky is matured in oak casks for at least 12 years, which gives it its distinctive flavour. It's a popular whisky for sipping or mixing into cocktails. If you're looking for a smooth, mellow whisky with a sweet flavour, Singleton 12y is a great choice.
Is your mouth watering yet? Head on down to Heldeke! for a warm welcome and an even warmer drink.
We hope to see you soon and you enjoy your whisky tasting experience in Tallinn, check out Heldekes event calendar to see when the next official tasting will take place.